Although there's no single hub for movies like Hollywood in Asia, Asian cinema is steadily gaining popularity and prominence globally. Serious blockbusters and serious wins on the international stage mean that Asian cinema is rising and rising fast.
One of the reasons for this is the intricate, emotional storylines and the hair-raising plot twists. From films like the 2003 Old Boy, which received 40 awards and 21 nominations to the 2019 Parasite with a whopping four Oscars, 308 wins, and 271 nominations in total, there's been a surge in the popularity of Asian cinema all over the world.
Even though this category is hard to pin down, with Asia being a vast continent comprising multiple languages and culture groups, Asian cinema from China, South Korea, Japan, Thailand, India, Hong Kong and more is drawing audiences in. Based on the sheer variety of human and realistic portrayals, it's easy to recognize why this is the case. Audiences all over the world find themselves easily identifying with the emotions the characters portray – from complicated love stories to gore and Asian horror films, anime, and even violence.
But how did it all start? What have been some of the influencing factors? And where is the industry standing now? We take a closer look.
How It All Started
In 1954, the Japanese Godzilla came out. Dubbed a sci-fi/horror film, it was the very first film in the Godzilla franchise. Just two years later, an edited and "Americanized" version of the film titled Godzilla: King of the Monsters! was released in the US. It was recognized by the Guinness World Records as "the longest-running film franchise in history".
Thereafter, the stage was set for more. Crouching Tiger: Hidden Dragon, was a film based on a Chinese book of the same name and it also received critical acclaim. Over the past decade and a bit, however, there's been a rise in Asian cinema productions with some snatching some of the world's most coveted cinema awards.
Enter Parasite. Directed by Bong Joon-ho from South Korea, this movie is about greed and class discrimination and the name seems to say it all. But before Parasite, the 2001 fantasy/adventure film Spirited Away proved that Japanese culture and folklore could resonate with millions of viewers worldwide.
Of course, there have been some adaptations such as the 2010 Avatar: The Last Airbender. This film is said to divide the world "into very different, defined groups, something a lot of popular franchises, like Divergent and The Hunger Games have exploited, to great success." This is what has made their popularity so enduring. Another example of this is Ghost in the Shell.
The popularity of Asian Media
As opposed to what one might believe about economic affairs and developments, one of Asia's biggest exports would have to be its culture over the past few decades. Specifically characterized by the Korean wave or "Hallyu" as it's also known in China, Korea's burgeoning economy also saw great potential for the proliferation of Asian media across the world.
Some examples of this have been K-pop with the massive international success of boy and girl pop bands with their amazing dance routines and catchy rhythms. And much like Turkish dramas have been celebrated around the world, Korean dramas are also massively popular throughout Asia.
It's not just South Korea though. Japan has also had some great successes with the export of anime media. And it doesn't end there. The rising popularity of video or console games such as Lost Ark (Korean) and Elder Ring (Japanese) are also making a huge global impact.
Overall, the cultural capital of the industry has led to a growing affinity for Asian productions including Asian movies and Asian-American films, with some of the best Asian films coming out recently as evidenced by major international film databases such as IMDb.
Investments in the Asian Cinema Industry
With the success of Asian cinema and films, investments naturally follow. So, what have been some of the financial ramifications for the industry?
Well, as far back as 2008, Hong Kong-based Global Entertainment Group planned to launch a $100 million fund to invest in film and TV projects across Asia.
Meanwhile, Japan's Avex Group established two separate financing vehicles with Hong Kong players (a $17 million fund with producer Bill Kong and a $50 million fund with Media Asia) "both designed to build long-term, pan-Asian investment strategies."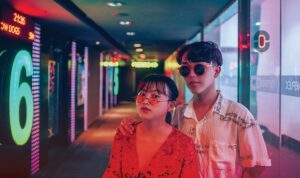 Moving on to China, in 2021, "the country's cinema industry saw its total box office exceeding RMB 1.7 billion on the second day of the year's seven-day Spring Festival holiday, breaking the record of the daily box office in China," with significant implications for foreign investors in China's film sector.
And as a final point, but not least important is South Korea and Japan, which not only handled the Covid-19 pandemic comparatively well but also saw a steady stream of audiences at theaters despite stringent social distancing measures. It can be said that movies and films play a huge cultural role in South Korea, especially local ones. And such local support was certainly evidenced during the pandemic.
An excellent example of this is the movie "Drive My Car", which became the first Japanese movie in 13 years to get an Oscar, winning the "Best International Feature" category at the 94th U.S. Academy Awards in Los Angeles.
Is Asian Cinema Here To Stay?
With so much talent coming out of Asia, in terms of acting, directors, scripts, production, etc., it's clear that Asian cinema is here to stay. What's more, is that it's likely to continue gaining international acclaim much as Parasite did. There's financial impetus, creativity, and skill coming out of Asia and it's appalling to foreign audiences.
The question that remains is to what extent will localization of films take place through translations of subtitles and dubbing, as these small but highly significant cultural references need an outlet and may not always be conveyed or have their meaning carried across as effectively as they could. Let's see what happens at the very next Asian film festival.