Known for its majestic sights, rich cultural heritage, and divine food, Thailand takes a very special place in its corner of the earth. With a population of over 66 million people, the country is home to some of the world's friendliest people. It is interesting, unique and has a lot of unknown facts such as the fact that the capital Bangkok's real name is Krung Thep Mahanakhon Amon Rattanakosin Mahinthara Aythaya Mahadilok Phop Ratchathani Burirom Udomrathcaniwet Mahasathan Amon Piman Awatan Sathit Skkathattiya Wirsanukam Prasit. Quite a mouthful isn't it? Something else you might find interesting about the language is that Thai is often called Siamese and is spoken by around 40 million people in the world. Formerly known as Siam, it's also the original home of Siamese cats and twins. But what about modern-day Thailand? And how about the younger generation? Especially when it comes to an increasingly globalized world where English is spoken more and more often? What interests do they have and how does this relate to localization? Keep reading to find out!
Thailand and English
Some sources indicate that Thailand scored in 55th place out of 60 on EF's English Proficiency Index (EPI), and it also scored the lowest in Southeast Asia in the JobStreet.com English Language Assessment (JELA). In our increasingly globalized world, this score is indicative of some true language barriers between English and Thai. Let's put things in perspective by citing some examples. Thai people often struggle with the difference between the English "ch" and "sh" as in cheese or sheep. Much like other Asian countries, there is also often confusion between the "r" and "l" letters and sounds. To make things even more difficult is the issue of introducing politeness in a conversation. Whereas in English one might say Sir or Miss, in Thailand this is a bit different. This is why if you go to Thailand, you may often find that you get called "you" in shops, simply because the direct Thai translation is in their polite form. This makes translations truly awkward at times and is something to consider.
The Thai movie scene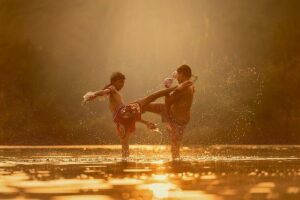 Jumping slightly ahead to the Thai movie scene and the younger generation discussed above (not necessarily at the exclusion of the older generation though), movies are an excellent source of entertainment for them. Dramas, soapies, horror films, animations – you name it, the Thai love it. However, it often happens that most of the time, movies and films are dubbed instead of containing subtitles. Going back to what was said in the previous section, this makes it difficult for Thai people to truly grasp the native way in which a word or a series of words may be spoken, as more focus is placed on one's listening skills instead of their speaking skills. Hence the common language errors made by Thais when converting to speaking English. Since cinema is such a great way of introducing a language and culture to a nation, it may be a good idea for Thailand to consider reducing dubbing and introducing subtitles in movies instead. This will greatly help with language uptake.
Subtitling and translations
There's a very long process from the time an English or other language film is created to its release to the public. This is especially the case when it comes to a public that is a foreign nation and where English is not a commonly spoken language. This can create significant difficulties when it comes to subtitle translations. While common to many countries around the world, Thai subtitling must be considerate of several factors in order to be effective. This involves not only accurately conveying the author's words, tone, intended meaning, but also plays on words and jokes, which may be very hard to translate and to put into context. Another major issue relates to dubbing.
Dubbing
Dubbing is the art of a professional voice-over actor looking at the movie script as well as the screen in front of them, in a second-by-second time frame, and then adjusting their voices, the speed of their speech, their tone, and making other necessary adjustments to ensure that the scene is accurately recreated and portrayed to the viewers. For example, some professional voice-over artists and actors took on the task of dubbing the English movie by American director Martin Scorsese, The Irishman, took a lot of effort and professionalism to convey all the right nuances in the gangster film.
What about Thai subtitle localization?
Some authors indicate that it would be better for Thailand to consider reducing dubbing and introducing subtitles to the films as this is a great way for Thai people to pick up English language nuances better. On the other hand, there is the argument that Thai subtitle localization is a hard feat to master. This will also require the viewers to read as opposed to listening, thereby making them tired instead of relaxing and enjoying the film. Whichever way you look at it, and there are good arguments on both sides, the need for localizing subtitles is great. There are many cultural intricacies that some languages are not able to convey as accurately and succinctly as possible, and there are also language obstacles, such as those mentioned above, which can hinder an accurate localization process.
Where to next?
It's unclear where the world of film will take Thailand in the future. Suggestions have been made for there to be a reduction in dubbing and an increase in the use of subtitles (at least for those who are at a particular age where they're able to read such as young children). This could really be a turning point for the way English is learned and spoken in Thailand and it will only add to a richer and more fruitful interaction with the millions of visitors that the country has each year.